anyone NOT in leeds, this is WELL worth the travel!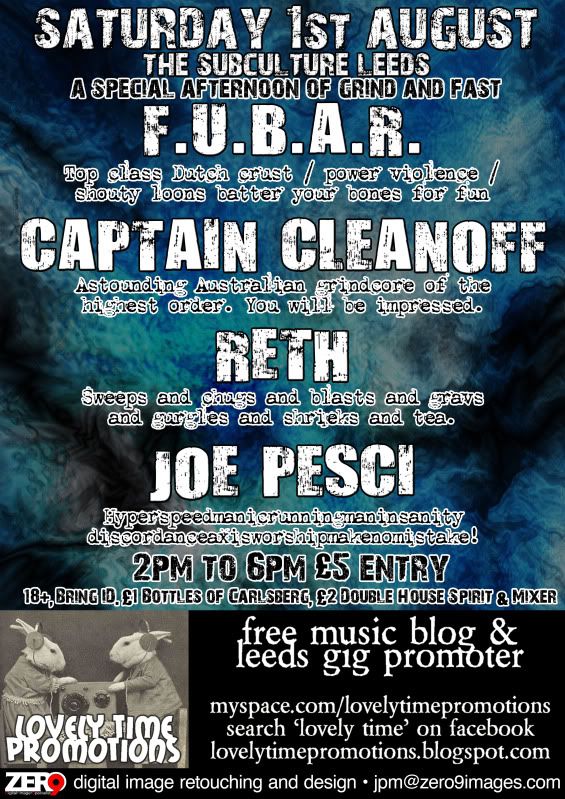 http://www.facebook.com/event.php?eid=87318353847
FUBAR (Holland)
Ranging the whole spectrum of crust, grind, power violence, punk and hardcore. This lot are explosive and amazing live!
http://www.myspace.com/fubar
CAPTAIN CLEANOFF (Australia)
First up, brilliant name! Secondly, their two albums are storming, essential pieces of grindy deathly fastly aceness. Imagine mid-era Carcass and Napalm Death having babies with Fuck I'm Dead and the like. Extreme freaks check these out!
http://www.myspace.com/captaincleanoff
RETH
North west lovelies playing ADHD powered technical metal. Death, grind, black, sludge, crust, mosh, slam. It's all there.
http://www.myspace.com/reth
JOE PESCI
From all reaches of the northern world (Glasgow, Newcastle and Leeds) comes Joe Pesci, the fastest fast you're gonna get. Discordance Axis on ultra high speed setting. Get the bucky in!
http://www.myspace.com/joepesci666
Saturday 1st August
2pm till 6pm.
£5 entry
Leeds, Subculture
If you like anything remotely fast, heavy, punk, crust, death, grind, and you don't come to this, you fully lose at life!
So nerh! :-P
http://www.myspace.com/lovelytimepromotions