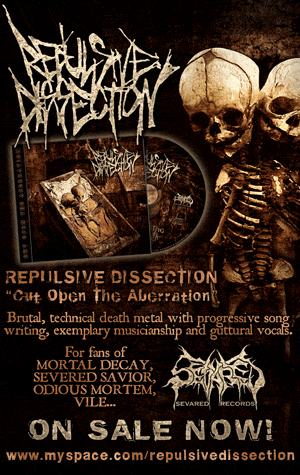 Repulsive Dissection will release their debut album, "Cut Open The Aberration" at the beginning of October through US label Sevared Records.
The album was recorded by members spread around the world in Ukraine, Japan, Sweden + the UK (including members of Kraanium and Infected Disarray) and features the following tracklist...
1. Decimate
2. Mercurial Sapience
3. Septicemia
4. Genetically Deranged
5. Unjust Calumniation
6. Human Contempt
7. Selfcage
8. Distorted Existence
9. Swarmpit
10. Necessary Bloodshield
11. Martyrdom
2 tracks of the final mix can now be heard on the band's Myspace page...
www.myspace.com/repulsivedissection