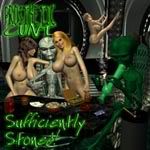 http://www.prostheticcunt.com
ProstheticCunt's latest transmission of stupidity "Sufficiently Stoned!"
is now available!
Login to your account and download the grind!!
What, you're not a yearly subscriber? Then you suck. It's cool though. For the next few weeks subscriptions are on sale! Yearly subscriptions include access to ALL our releases! So sign up, get high and grind out your mind jerks!
KOM2 out