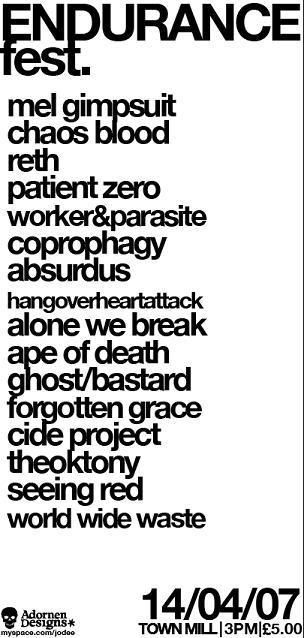 14th april
mansfield, the mill
http://www.myspace.com/endurancefestival
(These are Endurance people's descriptions...)
Chaos Blood - Brutal as fuck extreme metal band from Hampshire. Debut album 'fragments of a shattered skull' being released on Siege of Amida Records. Do not miss, top live band.
Reth - Stupidly technical metal from Leeds. Played with everyone from The Red Chord to Melt Banana.
Patient Zero - Fast lads from Boston Not Boston. Bunch of cunts!
Ghost/Ba5tard - Leicester lads feature the legend that is Bene! Send more cash machines!
Mel Gimpsuit - Fat local grind lads representing, last day of their tour!
Worker And Parasite - Top lads from down Guildford way! Playing fast as owt thrash/power violence.
Ape Of Death - Nottingham lads playing brutal metal.
Absurbus - Local youths playing Metalcore.
Seeing Red - Hereford lads playing fast hardcore like minor threat suprisingly enough
Hangover Heartattack - Straight Edge lads from Leicester, ace fast crust grind
Cide Project - Local dual vocal metal youth!
Alone We Break - Local metalcore lads
World Wide Waste - Kirkby Youth playing fast punk rock, top shit!
Coprophagy - Brutal Grind/Death lads from Sunderland, dirty as fuck!
Theoktony - Death/Thrash from Wolverhampton, brutal!
Forgotten Grace - Crushing death/grind from Hull.
Line up times to be sorted soon along with a flyer.
It's at the town mill in Mansfield, kicks off at 3pm and it'll be £5 in.